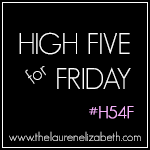 1. IT'S FRIDAY!!!! Actually, this week went by fairly quickly for me. I can honestly say, its been a great week!
2. Monday was a typical Monday for me. By the end of the day I was EXHAUSTED! But, Rob and the rest of the family headed out for 50cent bowling at one of our favorite bowling alleys. Even though I was bummed that I was way too spent to go... it gave me a wonderful night in relaxing and just having some me time.
3. Tuesday night, Rob took me out on a date night to Red Lobster. Holy stuffed tummy!!! I actually felt bad for the baby due to the amount of food I ate that night, HA! Rob went for the endless shrimp... while typically the bottomless or endless specials are wasted on me. I get full to fast... especially with the yummy cheese biscuits to munch on!! So I went for the Parmesan crusted talapia! soooo yummy!
4. Wednesday Rob's mom and grandma blessed us by having us over for "taco wednesday"... such a great time of visiting and catching up and just a relaxing evening with family is ALWAYS a great idea! Plus, it gives Lilly and Delora a chance for extra exercise as they chase each other around the yard like maniacs :D
5. Baby T continues to grow!! This week he/she made their appearance front and center!... no longer hanging out low and to the left... as of yesterday almost right at my belly button (well maybe a half an inch under) is the new hang out spot! And that heart beat... holy moley! It's gone from the fast 170's down to the high 150's low 160's. Our little peanut is growing!!!
I recently read a post about "having it all". It got me to thinking... I really do consider Rob and I to "have it all". True, we may not live in a mansion or have millions of dollars, but for me, that's not what life is about. To me, "having it all" means that I have family that loves me... and I'm blessed to have a LOT of family that loves me, friends who support me and that are real - that I can live a transparent life with, & a husband who is mine - who gets me on a daily present basis as well as who I want to be and the goals I have for life. It's coming home from a long day of work to a hug at the front door from Rob and a slobbery kiss from our dog. It's seeing my baby bump grow and grow, and feeling the little flutters inside of my being. Again, we aren't world travelers. We've both been out of the US but don't really desire to make that a habit on even a yearly basis. When it comes right down to it, home is where we are. When I say we are about the simple things in life, its no exaggeration, and really I wouldn't have it any other way ♥