Good Morning! Typical blogging morning here; I've got my coffee by my side, sunshine coming through the window, and my lilly-pup by my feet. How can I not be thankful this morning. I'm not quite sure where this weekend has gone... yes, I know I have the full day today, but we are both working a bit again today. This never happens on the weekends, so it has been a bit draining for us both! The home show seemed to be a huge success and a lot of fun so far this weekend. Today is the last day... so you all in the Springs... come see us! ♥
Leaving you with the
Sunday Social Link up
, I did last week as well ♥ Happy Sunday! Enjoy the rest of your weekend!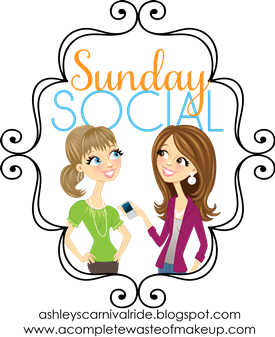 1. What is your ideal way to relax?
Laying in bed watching TV with my husband and our zoo
.
2. Where is your favorite place to be?
I'm gonna have to say my house. There's just something about being home. As far as away form home, I'd have to say my parent's house or my sister's... the lodges are SO relaxing!
3. Who do you consider your biggest role model?
4. What does your life look like in 3 years?
us. kids. animals.
HAPPINESS
.
5. If you could go back and change one decision, what would it be?
aye, aye, aye. i believe even if different decisions were made, i'd still be here. i truly believe i am where God intended. i'm sure he intended a less, eventful route, but i'm here. but one would definitely be,
turning down that volleyball scholarship to play in college...i was so burnt out, but now i miss playing, a lot!
6. What is your biggest accomplishment in life so far?
Graduating College. & having the strength to live the life i wanted to live.