Wow, what a week. I can honestly say its had its super lows as well as it's highs. As Monday rolled around I was remaining thankful, staying positive, ready for the week
here
... then like any other day, Tuesday came, 4:14 came early just like it always does as Rob's alarm went off... he got ready and left for work. I rolled over, went back to sleep and my phone rang. at 5am.
my mom. never a good thing considering my mom and i share the disgust and loathing for early mornings. honestly, i hesitated on answering. i was scared to hear what i knew i was going to hear. my granny was gone. i knew it. so, it was no surprise when i heard the words come out of my mother's mouth, her mom was gone. as i laid there trying to console my own mom on loosing her mom, what do you say. if it was me, and i had lost her, there would be no consoling. tuesday was one of those days you don't let yourself cry for too long, or you just might loose it permanently for the day. so i got up, made some coffee, and got ready for work...determined to make it through the day. & i did.
Wednesday came with sunshine and a sense of life and purpose. Its always amazing to me what a new day can bring. Sure there was still lingering sadness there always will be. I lost both of my last living grandparents within 8 months of each other; that does a number on your heart. But, with a new day comes new opportunities and new life, and for that, how can you not be thankful. The rest of the week was a bit of a blur to be quite honest. My heart, my mind, my emotions, all of be besides this physical body were in Missouri, with my family.
Friday brought joy, as we watched our favorite teeny-tinies, and enjoyed them with laughter and fun. Saturday, I was able to sleep in and Rob took me out on an afternoon date to see The Hobbit... finally! Such an amazing movie by the way, a must see! Then we had our other Tisthammer halves over, and their teenies, for dinner and just good fellowship and hanging out; always good for the soul.
I look to this week with expectation. Expectation of normalcy and relaxation. Lilly has already had her bath for the week, the dishes are done, and I'm sitting here, in the sunshine, sharing my thoughts with you all with coffee by my side...it's already shaping up to be a good day ♥
I leave you with a fun link up I came across, after following another super cute blog
here
, that I found from the Thursday link up I do... Super Fun,
Sunday Social!
Have a Great Week Everyone!!! ♥ Give those you love an extra hug today ♥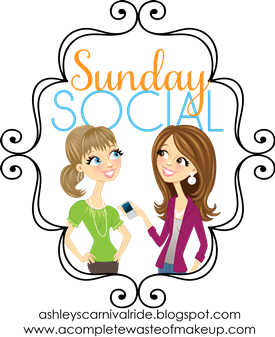 1. Top 3 favorite kinds of food
Sushi, Wings, Chinese Food
2. First 3 things you do in the morning
I hit the snooze button more than three times... so really that's 3. But, stagger to the coffee pot, take Lilly out and feed her and the cats.
3. Last 3 things you do at night
Go to the bathroom, kiss my husband goodnight, & well, you know (parental discretion is advised).
4. 3 TV shows you NEVER miss
Revenge, Castle, Army Wives
5. 3 places you want to visit
Italy, Ireland, Norway
6. 3 people you can always count on
Rob, My Mom & My Dad