Good Morning Happy Wives (& other readers too of course)! Thursday mornings really are becoming my favorite... because I get to "link up" with a ton of happy other wives as we brag and love on our amazing husbands! ... Yes there is actually a
Happy Wives Club
! Check out my past two link up's
here
and
here.
I love doing this, a) because I love my husband and our marriage and talking about it brings me joy! & b) it makes me intentionally take note of every thing my hunka-husband does to love me...the big things and the little.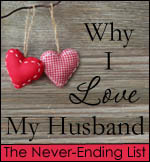 So here goes, the never ending list....
21) he prays. he's a man of prayer, for us, for me, and for our marriage.
22) he rubs my back. some days without asking, some days i ask...but no matter what he does it without hesitation. i can't say i do the same.
23) he loves well. i couldn't even tell you what my main love language is these days...because he hits them all!!
24) he watches the bachelor with me. without complaining. we sit and laugh, make fun of the crazies, and root for the semi-normal ladies to find true love. its a silly show, and it provides us both a lot of entertainment. but come on, how many husbands would do this without complaining ;)
25) he still dates me...a lotta years later, he still takes me out to dinner and to the movies... or we even have "date nights" in.
26) he chooses me. day after day he chooses me; he chooses Us!
27) he laughs at me. some days you just need that!
28) he still gives me butterflies.
29) & this.....
....he let's me hog the bed without complaint ♥
Happy Thursday Everyone... go love on your hubbies ♥